X-ray photoelectron spectroscopy (XPS)
The working principle of the XPS is based on the extraction of electrons from a sample surface irradiated by X-ray photons.
X-rays are produced when an electron beam with enough energy to promote transitions between atomic core levels impacts an anode. The produced X-rays are redirected to a monochromator, where radiation with an energy of 1486.6 eV is selected. These X-ray photons are guided onto a sample. The interaction of the X-ray beam with the sample atoms results in excitation and extraction of electrons. Extracted electrons are collected in a detector, where their kinetic energy is measured.
By knowing the energy of the incoming X-rays (hν), the required binding energy (BE) of the electron (Ebin) within the atom can be determined.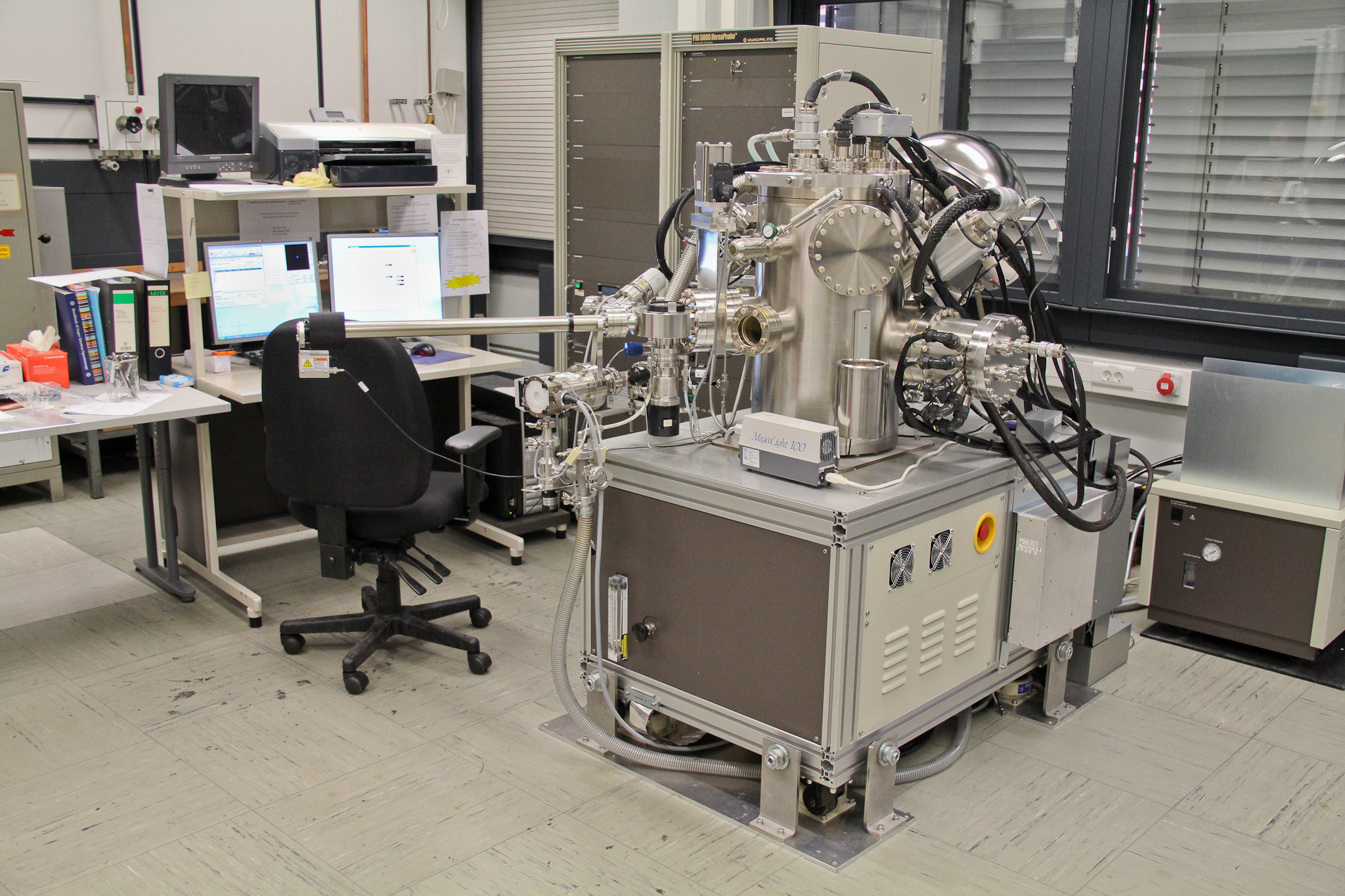 Each element is characterised by the binding energies of electrons in the di erent atomic core levels. The only elements which are not detectable within the XPS are hydrogen and helium. Chemical bonding between atoms leads to a shift in binding energy position, which allows a chemical analysis of the measured samples. This technique is called ESCA (Electron Spectroscopy for Chemical Analysis).
X-ray Photoelectron Spectroscopy is performed using a Versaprobe spectrometer from Physical Electronics (PHI 5000 VersaProbe). At an aluminium anode, Al K α radiation with an energy of hν = 1486.6 eV is produced. A resolution of 0.5 eV is achieved for survey spectra using a pass energy of 187.85 eV. A spectral resolution of 0.05 eV for a pass energy of 23.5 eV is usually applied for measurements of single peaks. Best resolution achieved is 0.025 eV. The measurement spot can be applied to diameters of 20 μm, 100 μm or 200 μm. Standard measurements are performed at a tilt angle of 45° between the sample and the detector. For angle resolved measurements, angles between 15° and 85° can be used. An ion gun with an argon surce is adapted so that a sputtering of the samples with energies between
20 V and 4 kV can be used.
Three kinds of sample holders are avaible, the small one is a circular 1 inch holder, the bigger one is a circular 2 inch holder. Finally, there is a angle resolved sample holder on which up to eight samples can be mounted. The circular sample holders have masks which can be installed to measure wafers or any other solid sample.
For measurement request, please write an eMail to This email address is being protected from spambots. You need JavaScript enabled to view it.